PRODUCT DETAILS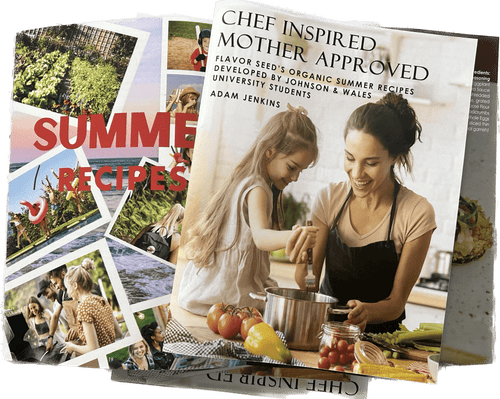 CHEF INSPIRED MOTHER APPROVED: FLAVOR SEED'S ORGANIC SUMMER RECIPES DEVELOPED BY JOHNSON & WALES UNIVERSITY STUDENTS
Our goal is to help families and individuals eat a non-processed food diet; quickly, easily deliciously, and organically.  Our Organic blended seasonings do just that and while our flavors work great by just getting them on whatever you are cooking our fans kept asking for recipes.  Not being a huge recipe guy, I sought out professional help.
That's when fate and fortune aligned and Johnson & Wales University agreed to partner with Flavor Seed to not only help create this cookbook, but to help teach an entrepreneurship class and expose their students to real world small business challenges.  
Johnson & Wales
We just completed our spring semester class in which our students competed against 17 other groups to present their work for the semester.  Our team won the President's Award for most professional and rewarding experience.  While we did not complete the entire Flavor Seed Organic cookbook, we did produce the Summer edition of Flavor Seed recipes.  Our Summer Cookbook (magazine) is also available as a digital download ebook.  
Johnson & Wales Chefs and Students
Our students not only came up with these delicious recipes but also completed many hours of research about the benefits of Organic eating.  A small excerpt is contained in the summer edition with much more data and information to be added to the larger cookbook in development...
This Summer addition contains 16 different recipes including appetizers, salads, salad dressings, a dip, and many entree's using 13 different Flavor Seed seasonings.  These recipes are all chef inspired and developed, and we actually cooked the recipes multiple times in class to make sure the recipe was dialed in.  All the beautiful images of the food were taken in class and are exactly what you can make at home.  These recipes are family friendly, easy to follow, and in general can be made within 30-40 minutes, even by an at home novice.  
 Appetizer
Eggplant Pizza Bites
Salad Options and side dishes
Organic Chipotle Chicken Salad
Recipes for eating on the lighter side
Main Entrees
Smokey Pork Tenderloin and Country Salsa (Applesauce based BBQ Sauce)
Organic Pepper Steak
All About Flavor Seed
In addition to these Summer recipes you will be able to read about each of our seasonings to get an idea of how best you would use each of them.

Be sure to check out the add ons and purchase some seasonings so that you can replicate these recipes.
A little bit about Flavor Seed's Products
A little bit about Flavor Seed's Products
A little bit about Flavor Seed's Products
A little bit about Flavor Seed's Products
Want to know more about Flavor Seed?  Check out this amazing story about how this whole thing got started...
Flavor Seed Origin Story
Thanks again and welcome to our table.

*These statements have not been evaluated by the FDA. These products are not intended to diagnose, treat, cure, or prevent any disease.